Great Sandy National Park
Cooloola Great Walk
Double Island Point headland. The yellow ring marks a proposed development site for ten luxury private cabins. Photo: Michel Scutts.
Background
---
Cooloola is the mainland section of the Great Sandy National Park, lying directly south of K'gari (Fraser Island), the park's offshore section. This region is both special and precious. It is one of the only remaining undeveloped coastal sand land masses on Australia's east coast, and contains one of the only perched dune lakes in mainland Australia.

Great Sandy National Park is a huge coastal sand mass exhibiting a wide range of World Heritage listed features. It is the only place on earth where rainforest is found on sand, with unique hydrology, soil and dune patterns. Biodiversity includes 44% of Australia's known birdlife. There are eastern ground parrots, wallum froglets, kauri, hoop and white beech pines, and more.

Cooloola sits on the northern edge of south-east Queensland, a rare mainland expanse of intact natural features and ecology within an otherwise highly populated and disturbed landscape. It is valued for its intact natural beauty, its expanse of near wildness and its relative accessibility. Swimmers, surfers, fishers, walkers and birdwatchers and other nature lovers treasure this area, with its most popular features lying around its perimeter: enchanting places like its beaches, Double Island Point and the Upper Noosa River.

The iconic Cooloola Great Walk stretches for 102 kilometres through the area's centre. This five-day walk allows an almost complete immersion in nature, and passes through a mosaic of remarkable landform features. There are very few other people and minimal development impact.



Poona Lake, Cooloola, Great Sandy National Park.
Photo: Andrew Peacock.


Development proposal
---
The proposal aims to create five private lease sites within the Cooloola National Park. Four of these would be located along the Cooloola Great Walk, with another at the iconic headland of Double Island Point. These sites would be leased on a 30 year term with a 30 year renewal.

Details include:

Construction of ten luxury cabins (each 38 m2 including ensuites), a covered common area for dining and recreation, and ancillary operational installations at the two northernmost sites (Poona Lake and Double Island Point).
The three sites south of Poona Lake would each host six 'glamping' units (24 m2) as well as a separate common area and ancillary installations.
Each site would need new connector roads of various lengths for routine servicing and food provisions for the accommodation complexes. Fresh and wastewater will also require routine servicing.
The three lease sites south of Poona Lake would be near existing campsites.
Figure 1. The proposed development sites.

The project describes these development sites as integral to a 'luxury walking product'. The proponents (State Government and private operator CABN) assert this walking product to be initially comprised of two parts:
Five-night/six-day journey S-N along the Great Walk staying at all five sites and ending at Rainbow Beach.
Two-night/three-day journey starting at Poona Lake and traversing to Double Island Point, then to Rainbow Beach.
Current status
---
The project remains at concept development within a 'closed-shop' process limited to State Government, CABN, the Kabi Applicant (Native Title), and Noosa Parks Association. The latter is supposed to represent environmental and community interest but isn't even engaging with its own members.
The next steps are for the Kabi to vote on an Indigenous Land Use Agreement (ILUA) and for CABN to present finalised site details within a Development Application. State Ministers and Agencies say they can't determine the assessment process and schedule until the DA is submitted. Standards and procedures are literally being made up as they go along.
The proposal's PR material suggests annual occupancy between 4,500-5,500 clients. There are worrying claims from the two State Departments facilitating the project (Environment/DES and Tourism/DTIS) that the Cooloola Great Walk is underutilised, carrying less than 2000 walkers a year while 'intended' to carry 17,500. There aren't any available records that validate this 17,500 claim, nor any study evaluating its impact upon landscape or existing user experience.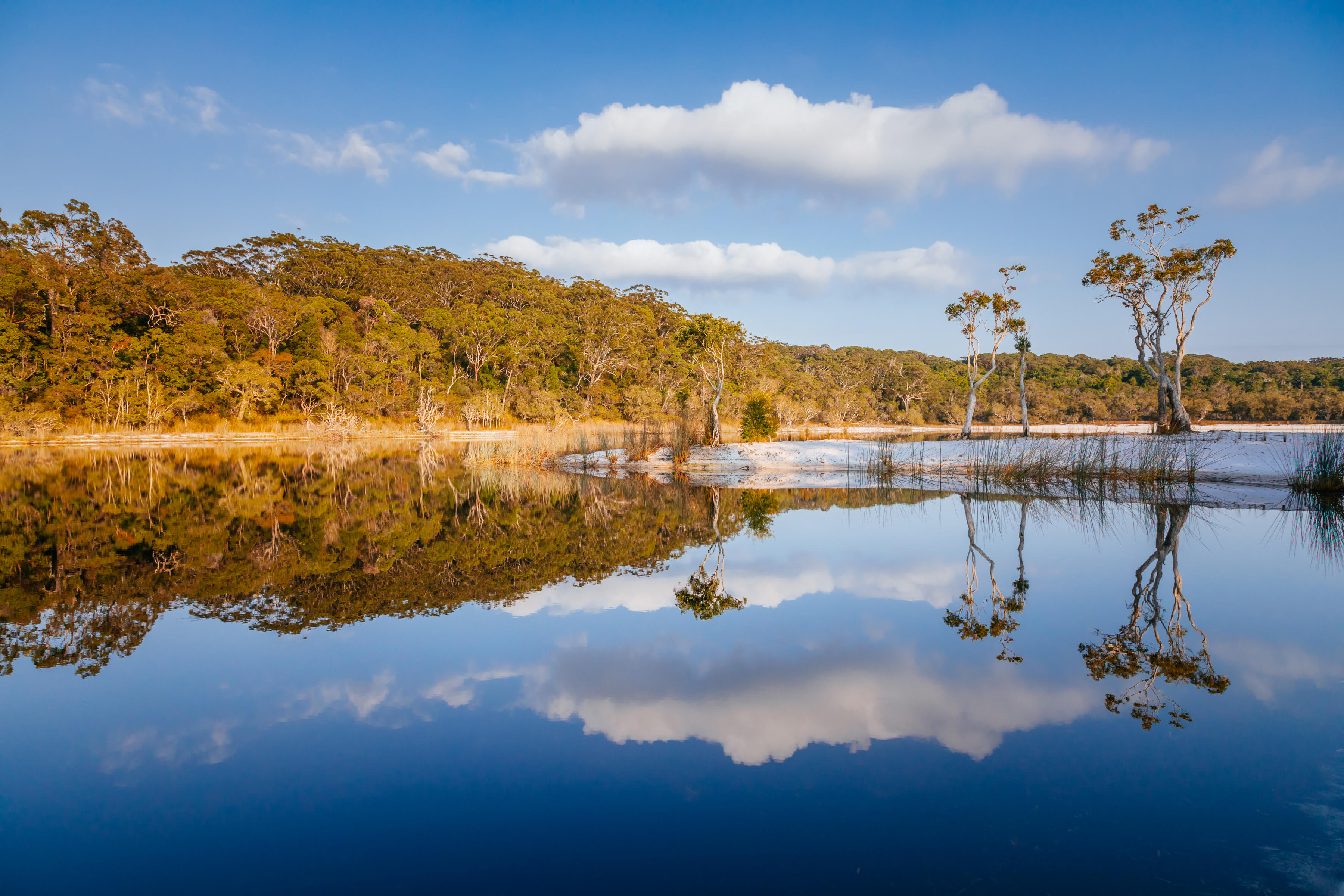 The tall trees (blackbutts) in the middle of the photo are a proposed development site. This is now in flux after sustained campaign pressure.
Photo: Andrew Peacock.
Broad history of the proposal
---
This proposal came out of an industry-chaired working group within Queensland Department of Tourism (DTIS) in 2015 which developed plans for luxury walking products along Queensland's Great Walks, including Cooloola. In 2019 a generalised, highly restrictive and poorly promoted public feedback form was made available online.

In May 2021 DES referred an evidently finalised site and operational outline for Federal EPBC assessment. This was followed by a number of community meetings around Cooloola National Park to present the EPBC submitted plan details. These were instructive of a final position and were intentionally managed to be not consultative.

Community protest grew from this point, with government ministers and agencies ignoring concerns. They have been forced to give some significant ground on site locations, but refuse to consider the underlying problems arising from the active influence of commercial development within national parks.
Issues with the proposal
---
Habitat disturbance and loss due to large-scale construction at site and access roads.

Spread of weeds, pathogens and erosion into intact landscapes due to service road construction and daily usage by privately operated vehicles.

The public pay for the construction and maintenance of roads to service the private leases.

Fire and liability management issues in and around the privatised sites.

A massive increase in access and traffic through the centre of the park without assessment of contingent impacts and necessary management actions. (For example toilet stops between campsites; greatly increased foot traffic along delicate wetland areas.)

Proposed increase in user numbers will entirely change the amenity and intrinsic character of the Great Walk. This impact has not been considered.

Cost/benefit analysis has not been released, and may not even exist.

Inadequate public engagement on this matter of massive public interest, despite the enabling legislation mandating such development 'be in the public interest'.

The primary purpose of national parks is the conservation and protection of nature. This large-scale construction project within a national park is clearly contrary to this principle. Removing this fundamental guiding principle sets a new baseline for national park decisions and strategies, setting a terrible precedent for future decisions.

Further information
---
www.protectparks.net
Key contacts
---
How to help!
---