Beowa National Park
Light to Light walk
Mowarry Point.


Background
---
Beowa National Park is a refuge for plants and animals, including more than 30 threatened species, from the endangered southern brown bandicoot, glossy black cockatoo, and bristle birds to sea eagles that soar over migrating whales. More than 180 Indigenous cultural sites have been recorded in the park: middens, rock shelters and travel routes demonstrate a strong and ongoing connection to Country. Colonial history is everywhere too, from the Green Cape Lighthouse jutting out into the Pacific Ocean to Boyd's Tower at its northern end.
Migrating whales close to the shoreline at Beowa National Park. Photo Jenny Robb.

Huge expanses of this coastline were destroyed in the 2019/20 Black Summer bushfires, which burned an area of 24 million hectares and had a severe impact on south-eastern Australia. The vast majority of the park south of Eden was severely affected, and Beowa National Park was badly burnt (Figure 1). The flora and fauna will take years to recover, and managing the park to help this recovery should be the priority.
This is one of the last remaining sections of wild coast in NSW. We should do everything we can to keep it wild.
Figure 1. The impact of the Black Summer bushfires on Beowa National Park and surrounding region. The left-hand image shows the proposed project area (Source: Figure 1-1 in Draft Review of Environmental Factors), and the right the bushfire impact.
Development proposal

---
The Light to Light walk project is a multi-day, lodge-to-lodge walk proposed by the NSW National Parks and Wildlife Service (NPWS). It involves the construction, ongoing servicing and maintenance of two large, remote-area accommodation complexes. The proposed sites for these large-scale constructions are Mowarry Point and Hegarty's Bay. Hegarty's Bay is currently a beautiful, wild and low-impact bush campsite, while Mowarry Point is an old farm site that has been extensively re-wilded; it is a much loved 'secret spot' amongst the local community. The accommodation complexes proposed for Mowarry Point and Hegarty's Bay will service up to 72 guests per night plus staff, and include helicopter access zones, gas tanks, generators, solar power, batteries, workshops, amenities huts, communal buildings, rainwater tanks, vehicular pathways and more.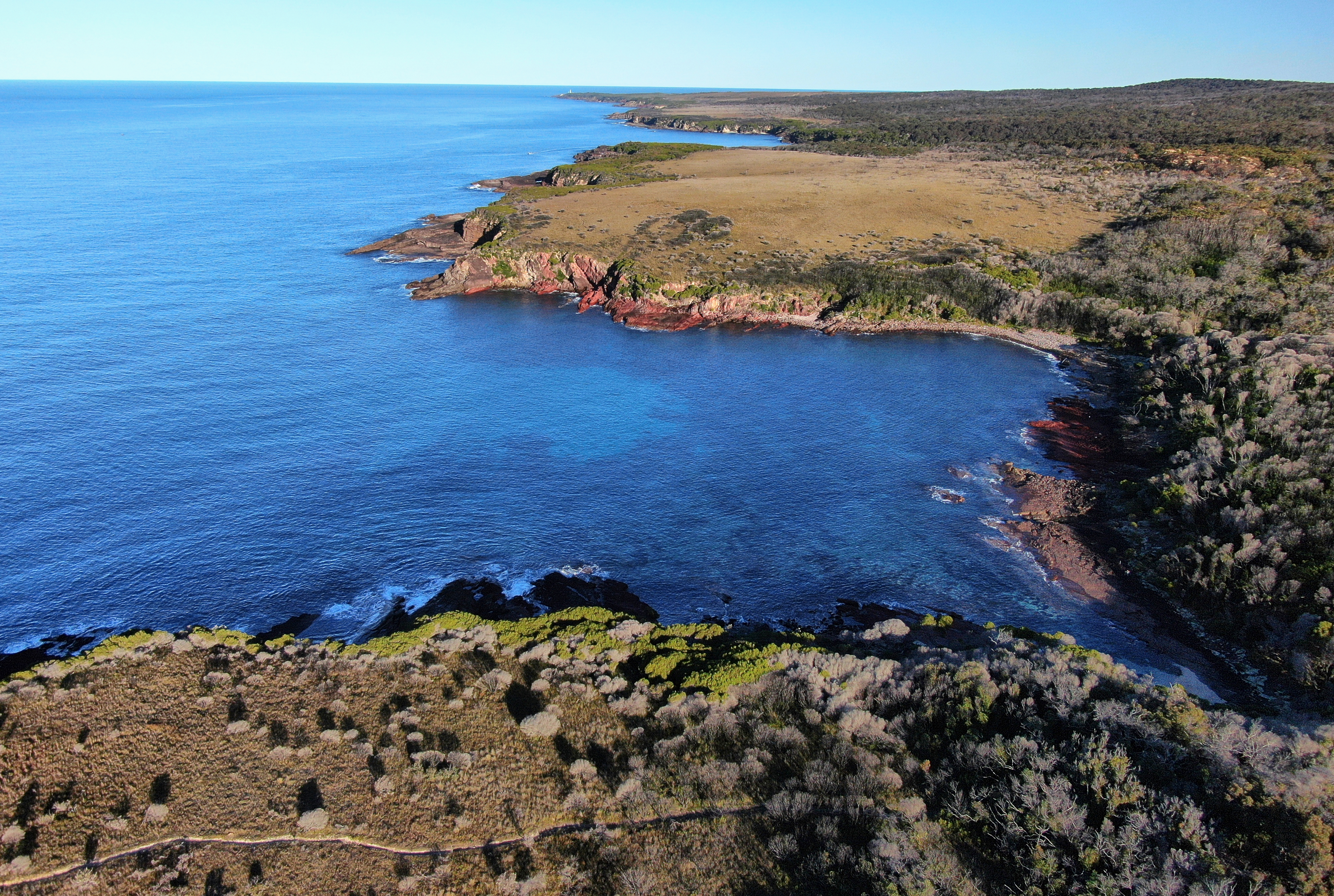 Hegartys Bay.

The proposal also includes the construction of approximately ten kilometres of new walking track, along with new roads, car parks and boardwalks. The project includes land clearing inside Beowa National Park and "have a direct impact of 2.9 ha and an indirect impact of 2.83 ha" (from the Draft Review of Environmental Factors [Draft REF]), on environmentally and culturally significant locations inside the national park. These areas include those severely affected by the 2019/2020 Black Summer bushfires, as well as the very small area of the park not directly impacted. These unburnt areas are critical for the recovery and conservation of Beowa National Park and its inhabitants, including at least 30 threatened species.
As well as its extensive environmental impacts, this proposal will restrict the public's access to existing free campsites, as well as reducing accommodation availability at Green Cape Lighthouse. It will impact and compete with local businesses currently operating in the area, and have a significant impact on culturally significant sites.
This project is proposed to be built using taxpayer funds inside our national park. This is despite the community saying clearly and overwhelmingly that they do not want the Light to Light Project to proceed, as documented in hundreds of submissions made during the consultation process.
Current status
---
In 2018 the allocated funding for this project was $7.9 million. However, NSW Government documents obtained through a Freedom of Information request in 2022 revealed a massive blow-out of the project budget to an estimated $14.48 million, with Minister Matt Kean seeking additional funding. The cost of the proposal has doubled before the project has even begun, and it is already running at least two years behind the schedule outlined only three years ago.
The public last received an update on the Light to Light project in November 2021, as indicated on the
NPWS Light to Light walk website
. This update stated: "A final review of environmental factors report and Aboriginal Cultural Heritage report are being prepared and will be submitted once finalised to the approving authorities. A summary of the submissions received from the public on the review of environmental factors will be released in the coming weeks." The public is yet to receive any information on the final Review of Environmental Factors report and Aboriginal Cultural Heritage report. However, Mr Fleming, Deputy Secretary of NPWS, stated in the committee meeting: "The [Light to Light] project has received approvals in terms of environmental and cultural heritage approvals." This is yet another example of the poor community consultation that has occurred throughout the development of the Light to Light project.
Figure 2. Timeframe for the Light to Light walk proposal.
Issues with the proposal
---
NSW National Parks & Wildlife Act 1974: the Light to Light project arguably conflicts with four core objectives outlined in Section 2A of the NSW National Parks & Wildlife Act 1974, which are clearly focused on conservation and underpin the purpose of NSW NPWS.

Environmental impact: the development will impact more than six hectares of national park land. This is especially dire given the backdrop of 2019's catastrophic bushfires and the ongoing climate and biodiversity crisis. The fieldwork and assessment of the proposed project, including the environmental impact assessments, were conducted before the bushfires, which completely transformed the landscape with the harshest fires we've seen in modern Australian history. As stated in the conclusions of the Draft REF (page 175): "Important note: The field work and assessment of these works was completed prior to the 2019/20 bushfire season."

Impact on wilderness and natural values: the proposal involves the construction of 30 structures, ten kilometres of new track, work to take the remaining track from a lovely bush track to a hardened path, and further developments. This will change the experience from one of experiencing nature with minimal signs of human intervention into a tame trip into an semi-urbanised environment, diminishing the wildness that draws people to the area.

Reduced public access: camping will be restricted to certain sites, reducing public access to nature. Priority for the accessible accommodation at the Green Cape Lighthouse complex will be given to lodge-to-lodge walkers, reducing available accommodation for those unable to otherwise access the National Park.

Unclear economic outcome: an economic impact analysis has not been done, so there have been no opportunities to weigh up the project's cost and benefits. Few economic benefits of the project will stay local: instead they will go with the developer and the tourism operator. The proposal may even have negative economic outcomes, impacting local tourism operators, while the reduced public access may reduce both visitor numbers and the park's broad appeal.

Lack of public consultation: the public has been kept in the dark throughout the project. The first round of consultation occurred in 2019, without adequate information given.
Photo: Jenny Robb.



Further information
---
Key contacts
---
Beowa - Light to Light - Community Action Group
is a community group opposing this development. It is a diverse group of people: locals, supporters from further afield, walkers, fishers, surfers, nature lovers, campers and more, all united by one thing: the need to keep Beowa wild.
To get in touch, either email
bbllag8@gmail.com
directly or connect via the
facebook group
/ public
facebook page
.
Green Cape - keep it wild.


How you can help!
---
Time is running out to stop the Beowa proposal going ahead. Here are some ways you can help:
Write to
Penny Sharpe
(Minister for Environment & Heritage)
Email: office@sharpe.minister.nsw.gov.au
Phone: (02) 9230 2741
Website: www.pennysharpe.com
Facebook: PennySharpeMLC
Twitter: @PennySharpemlc
Instagram: @pennysharpemlc

Write to Kane Weeks (Director South Coast Branch NSW National Parks and Wildlife Service)
Email:
Kane.Weeks@environment.nsw.gov.au
Mail: PO Box 707, Nowra NSW 254
Phone: 0455 091 528
Website: nationalparks.nsw.gov.au
A thorough and independent review of the Light to Light Project is urgently needed - please get involved and help protect Beowa National Park.